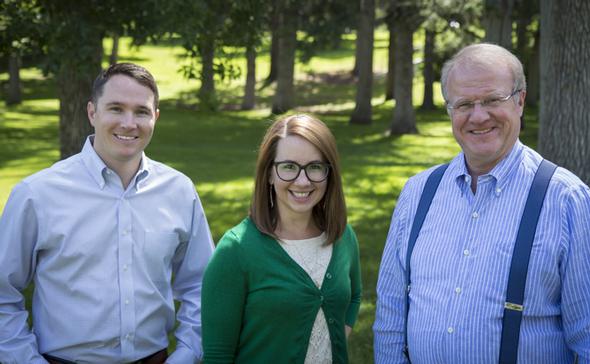 From left to right: Alex–Dabney,–Financial Advisor; Kaley Thomas, Client Associate; Jim Webster, CWS®, Senior Vice President, Financial Advisor.
Welcome. Thank you for taking the time to get to know our team and our practice. At Webster Wealth Management (WWM) we offer professional family wealth planning and personalized solutions to help our clients achieve their life aspirations by growing, preserving, and passing on their wealth. This is accomplished with a particular focus towards minimizing risk while retaining total transparency. Helping families and institutions achieve their financial objectives is a charge WWM takes seriously.
Webster Wealth Management embraces the highest practice standards of the financial services industry. To this end, WWM is a member of the Center for Fiduciary Studies, a non-profit organization based in Pittsburgh, PA dedicated to the promotion of such standards.
D.A. Davidson's Montana roots embody an approach that is anchored in the values of a company that is as independent as you are.
About the Team:
Jim Webster:
Jim joined D.A. Davidson in 1999 after working at Merrill Lynch, FBS Investment Services and Kidder, Peabody in the investment industry.  He has 30 years of experience in the financial services marketplace.
He served with the U.S. Navy, including on board the USS John Hancock (DD-981), and earned several military awards including two Navy Achievement medals.
He holds an MBA from the Franklin W. Olin Graduate School of Business at Babson College, Wellesley, Massachusetts, and a bachelor's degree from St. Lawrence University, Canton, New York. He is a Registered Investment Advisor Representative, has completed the Accredited Investment Fiduciary® program and the academic requirements for Preferred Portfolio Management. He has also earned his Certified Wealth Strategist (CWS®) designation. In 2013, he earned the designation of Global Financial Steward (GFS®) from the Leadership Center for Investment Stewards in Mystic, Connecticut through a program at USMA, West Point.
Jim has been active in the non-profit community and has served most recently on the Board of Fountain Valley School in Colorado Springs, CO., along with several other local organizations including, Bozeman Health Foundation and Big Brothers, Big Sisters of Gallatin County. He offers wealth management services to multi-generational families and continues to work with many local, state and national non-profit organizations. He enjoys skiing, cycling, hiking, fishing and reading. He and his wife, Valerie, an Episcopal Minister, have three children.
Alex Dabney:
Alex, a Bozeman native, joined D.A. Davidson in 2015 after working in various sales positions in the San Francisco Bay and Bozeman areas. He grew up spending his free time in the outdoors, which became an intricate part of his life. After a few years of competitive freestyle skiing in Bozeman, Alex finished high school at Brewster Academy, a private school in New Hampshire that introduced him to a new passion in the sport of lacrosse.
Alex holds a bachelor's degree in communications from Saint Mary's College of California, where he played collegiate lacrosse for the Gaels, achieving the All-Conference Midfield title his junior year and later, meeting his wife, Mallory. He then worked as a Consultant and Regional Manager for Solar City and Sunrun, the nation's two largest solar installers and financers at that time.
After five years in San Francisco, Alex's small-town Montana roots brought him and Mallory back to Bozeman, where he would become the National Account Manager for a billion dollar sales organization specializing in retirement planning products, and then joining D.A. Davidson in 2015. His wife, Mallory, gave birth to their first child, a girl, in January 2017. 
In his free time, Alex enjoys coaching and mentoring boys' youth lacrosse, fly fishing, skiing, golfing and becoming more involved in the community where he grew up.
Kaley Thomas:
Kaley joined D.A. Davidson in April 2017 and brings to the team a wealth of varied experience in the financial services industry.
Born and raised in the Appalachian foothills of South Carolina, she attended the Honors College at College of Charleston where she earned a bachelor's degree in business administration with a concentration in finance. Kaley began her career with Automated Trading Desk, a Citigroup company, in Mt. Pleasant, SC. She joined the company as an intern for their Trading Client Support Team during her junior year in college and soon after transitioned into a full-time role, spending several years attending to client calls and emails to support their trading needs. She ultimately worked her way up to the Trading Operations Manager role within their brokerage unit. Kaley went on to join LPL Financial in San Diego as a Trading Consultant for the advisory trading platform, simplifying and facilitating the trading process for financial advisors across the U.S. She has a passion for service, and her goal has always been to consistently deliver a smooth and pleasant experience to her clients.
Following her time at LPL, she and her family spent 18 months working remotely and traveling the country via RV. It was during these travels that they fell under Montana's spell and decided they would make Big Sky Country their home.
Kaley lives in Livingston with her college sweetheart husband, Taylor, and their two dogs, Beaugard and Blarney. Outside of her role at D.A. Davidson, she has been lucky to pursue many creative endeavors including professional photography and web design. She is a 200-hour Registered Yoga Teacher with a special interest in injury prevention for athletes. She also enjoys a wide array of outdoor recreation and loves to cook and travel.
Use this calculator to estimate the cost of your child's education, based on the variables you input.

How much do you need to save each year to meet your long-term financial goals?

Use this calculator to estimate how much income and savings you may need in retirement.

How Long Will Your Funds Last?